Restaurants in Pavilion KL (Pavilion Kl (Tokio Street), Pavilion, Pavilion Kuala Lumpur, Pavillion KL, Pavillion) – 158 Restaurants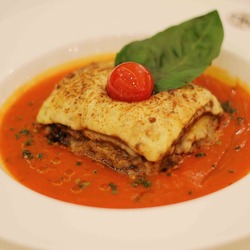 Business Hour
10am-10pm daily
Business Hour
11am - 11pm
Business Hour
Opens daily from 11am - 1am
Morganfield's is an Europeanized American casual diner specializing in pork ribs.
Morganfield's really a home of sticky bones! The spare ribs definetly tasty! I will come back again to fulfill my appetite!

cecilia_qianqian posted misscawaii.blogspot.com

56 Reviews
Business Hour
11am – 11pm (daily)
If you are a big eater, and have a penchant for good thick slabs of beef, then go for Bulgogi Brothers' Unyang Burger, a burger piled high with meat. A hefty delight of home-made premium beef patty, layered with American cheese, beef brisket in savoury sauce and garnished with crispy shredded potato sandwiched in a toasted charcoal bun, the Unyang Burger do offer a rather unique and nice combination of flavours.

isaactan posted www.isaactan.net

213 Reviews
Promotion
Business Hour
Monday – Friday : 11:30am – 10:00pm Saturday – Sunday : 11:00am – 10:00pm Last order 9:30pm
The restaurant is bright and comfortable. Meal is good and price quite reasonable compared to other Japanese Restaurant.
A simple tea time at Ichiban Boshi, Pavilion KL. Ordered aburi maguro sushi and soft shell crab temaki only.

wyilian posted wyilian.blogspot.com

31 Reviews
Business Hour
Mon - Sat: 11:30am - 10.30pm Sunday & Public Holiday 10:00am - 10:30pm
Business Hour
Opening Hours; Mon – Sun: 10:00 am-10:00 pm
This place is definitely the real deal, and for the prices we would say that this place is absolutely a MUST TRY. The only thing they could do to achieve perfection would be to find a way to remove the "yellow mee" taste (which normally comes from processed noodles) that gives a slight imperfection to the broth. Nevertheless the gNOMes will definitely pay a second visit and more.

renaelyng posted thegardennom.wordpress.com

75 Reviews
Business Hour
Mon-Sun 10am-10pm
The name "Kampachi" is not an unfamiliar name to most of those people who would love Japanese cuisine.
In the words of Chiharu Yabe, General Manager of Kampachi Restaurants, "this is a great way to experience different cultures of Japanese food and the Japanese are so passionate about food, they practise kuidaore – eat till you drop!" That sounds very Malaysian to me, too!

PureGlutton posted pureglutton.com

129 Reviews
Business Hour
Mon-Sun 0900am-1200am
Nice ambiance, free wi-fi and convenience - yes but definitely not gourmet coffee.
home of my favorite coffee, thus far. excellent ambiance coupled with the lovely, strong aroma of great tasting espresso based drinks! <3 to date, the best coffee with the lovely balance of bitterness and tartness served freshly made by professionally trained barista, this place is not to be missed.

siansysm posted sians.blogspot.com

18 Reviews
Business Hour
Sun – Thur (11am – 10pm) Fri, Sat & Eve of Public Holidays (11am – 12 midnight)
Business Hour
11:30am – 10pm