Dubu Dubu Seoul Food
@ Mid Valley Megamall
Mid Valley Megamall, Lingkaran Syed Putra, Mid Valley City, Kuala Lumpur
Quick Info
Special

Dol Sot Bibimbap

Address
LG-048, Lower Ground Floor,
Mid Valley Megamall,
Contact

03 – 22878980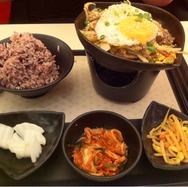 Duckie
posted 5 months 4 days ago
0 0 Not bad but as usual, the side dishes are not our thing.
0 0 Nice & Generous portion, Price are also very reasonable!!!
Recommended Dishes:
Dol Sot Bibimbap
Labels:
Dol Sot Bibimbap, beef
You might also like
13
@ Ikea, Mutiara Damansara, Petaling Jaya, Selangor
Their meatballs, made from minced beef are the best, served with thick gravy from beef stock, and lingonberry jam, with thick cut fries.
9
@ Kampung Sungai Kayu Ara, Petaling Jaya, Selangor
Excellent!!! The Snow Crab is just fantastic!!! Really a must try. The kai lan is good too.
7
@ Burmah Road, Penang
Little Cottage Cafe is a cozy cafe. The entire place is exactly how a cottage would be!! The place may look rather small but once..
7
@ Red Rock Hotel, Macalister Road, Penang
Nice restaurant. The ambience's inside the restaurant is clean and spacious. Overall the dishes are very well flavoured and delicious. The price is reasonable and..