Western Restaurants in Pavilion KL – 61 Restaurants
Business Hour
12.00pm - 12.00am (daily)
Of course, Michelangelo's is noteworthy for more than just the interior. For about a decade, they have been serving lovely Italian delicacies, churned out by a passionate kitchen team led by Italian Executive Chef Paolo Pala. Read quite a number of positive reviews about this place, finally paid it a visit to pamper our Friday night.

posted www.malaysianflavours.com

568 Reviews
Business Hour
Opens daily from 11am - 1am
Morganfield's is an Europeanized American casual diner specializing in pork ribs.
Jack Daniel's Glazed Baby Back | RM69.90 严选西班牙入口黑毛猪,改选猪的背肌肉和肩胛骨位置,肉质更为软嫩。香烤出炉后外焦香爽脆,肉质细致滑嫩,味道香甜味美。随碟附上金黄色泽的炸洋葱圈和健康coleslaw沙拉。

posted sweetieyee80.blogspot.com
Business Hour
Mon - Thu: 10:00 am - 2:00 am Fri - Sat: 10:00 am - 3:00 am Sun: 10:00 am - 2:00 am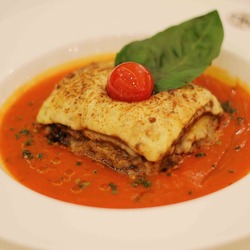 Business Hour
10am-10pm daily
Business Hour
Open daily 10 am - 2 am
3 options for main course - seafood, chicken and fish. Honestly all were good and even though I am not a chicken breast meat fan, I rate the Fagottino Di Pollo the most memorable dish for the night.

missyblurkit posted www.missyblurkit.com

266 Reviews
Business Hour
10am to 10.30pm
A Singapore grown Italian restaurant franchise first open in Pavilion KL.
Business Hour
open from 1130 till 4pm (3pm last orders) for lunch and 6 to 11pm (10pm last orders) for dinner.
There are 6 Angus's in the region; in Kuala Lumpur, in Indonesia, and in Singapore. Angus Charcoal Grill Steakhouse is Japanese owned and operated This restaurant is located at the top floor of Pavilion. This would be a good choice for beef lovers, no harm giving it a try!
These steaks are so good, they taste like wagyu!

CCFoodTravel posted ccfoodtravel.com

498 Reviews
Business Hour
Mon-Sun 0900am-1200am
Nice ambiance, free wi-fi and convenience - yes but definitely not gourmet coffee.
I personally like the ambience @ Espressamente Illy, as it gives you peace!

ojsiew posted ojsiew.blogspot.com

633 Reviews
Business Hour
Monday - Sunday & Public Holidays: 9.00am to 2.00am
The Press Room, is an interpretation of a vintage European brasserie. The emphasis is on simple Anglo-French brasserie food made from the finest ingredients, served in a friendly and relaxed atmosphere to satisfy the demands of today's discerning clientele.
Breakfast like a Queen? Indeed I did and I loved every bite of it. Breakfast even gets better these days with 20% discount off my food items when I make my reservations for The Press Room Bistro via ww.Offpeak.my from Monday to Friday.

missyblurkit posted www.missyblurkit.com

266 Reviews
Business Hour
Mon – Thu: 09:00 – 01:00 Fri – Sat: 09:00 – 03:00 Sun: 09:00 – 01:00
We enjoyed delectable tasting samples of several signature dishes, and fortunately for me I had an expert guide to explain some of the more unusual dishes to me, in the shape of our Venezuelan Yumlister, Caning Jaramillo.

TheYumList posted theyumlist.blogspot.com

552 Reviews
The restaurant inspiration comes from the simple practices of fisherman in Mediterranean who caught seafood fresh from the seas, cooked and ate the freshly cooked seafood immediately from the pan.
Well, they say "one bite 'n' you're hooked"....well, I used to be but not anymore since I've now had the privilege of eating better fish & chips elsewhere. It's funny how things taste good at one time don't seem to be so later on in life (or vice versa, in some cases, like what bitter gourd used to be for me). I think it's because our tastebuds got elevated (over time) from all that eating....I know mine did! ;) But the fact that they continue to open more outlets (the latest one being in Sunway Velocity) goes to show that some still find their fish & chips worthy for its reasonable pricing and big portions.

posted eatwhateatwhere.blogspot.com
Business Hour
10am - 10pm
The most beautiful breakfasts all day, everyday.
Wild Honey, the cafe that serves one of the best brunch in Singapore has finally marked their first oversea outlet in Pavilion Kuala Lumpur last year. We've heard a lot of positive reviews about their main branches in Singapore Mandarin Gallery and Scotts Square but yet to try it out. Hence we are pretty glad to be able to get a taste of their food in Malaysia now

posted www.malaysianflavours.com

568 Reviews