Restaurants in Bandar Johor Bahru – 9 Restaurants
Business Hour
10.00 am - 10.00 pm
Business Hour
11.00am – 11.00pm
Apart from western foods, It Roo also offers ala-carte local foods, like Fried Rice, Cantonese Kuey Teow and Mee Hailam, which are also popular and recommended.

nikelkhor posted www.nikelkhor.com

486 Reviews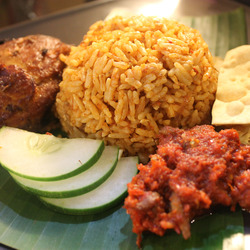 we celebrate our anniversary here last month. the sambal is so delicious! must try sambal ikan bilis and sambal udang. the environment is very cozy and the food price is RM8.50 which i think it the cheaper restaurant inside city square mall.great environment, great food, great affordable price

danialazza posted
Fresh charcoal-baked bread with a variety of filling! (Sweet coconut, Peanut with brown sugar, etc.) Cheap and satisfying.
Where else can you find delicious succulent banana cake made with real fruit and no preservatives, and freshly baked with wood fired old style brick oven?

Tony posted johorkaki.blogspot.com

24 Reviews
Business Hour
Monday to Sunday 8:00am to 4:00pm.
The curry was mildly spicy, mildy coconuty. But very fragrant and nice. Certainly one of the best fish head curries I have eaten in a commercial establishment.

pchong posted shiokhochiak.blogspot.com

30 Reviews
Business Hour
Mon - Sun (8a.m. - 4p.m.)
Kam Loong Restaurant is located snugly in a row of shop houses a stone's throw away from City Square, the mall mostly famous for its link to JB Sentral, which houses one of the custom checkpoint for travelers between Malaysia and Singapore. The queue for a seat is always never-ending, and they do not serve strictly according to a first-come-first-serve basis. The small restaurant can only house that many tables and seats, for that many customers, so the owners have to try to optimize the queue by allowing the smaller groups to try to fit into the available seats, sometimes sharing tables as well. Larger groups may have to wait longer for a table with enough seats to be made available by leaving customers, but rest assured that the owners will do everything they can to get a seat for everyone. The restaurant is famous for its fish head curry, and they serve fish head curry only - no other food is served there, so if you are not a fan of the dish, you may want to skip this place entirely. For Malaysians who are used to the spicy taste of curry, Kam Loong Restaurant's curry is not spicy at all. This would be a good opportunity though for those uninitiated in the ways of curry to have their first taste to accommodate future excursion into the land of spiciness.

konshoe posted draftsfromcoffeetable.blogspot.com

13 Reviews
Catering & Office Delivery is also available.
Overall, I actually did not expect a family-running-stall can provide such satisfaction, home-cooked style of food and the friendly owner who passionate in serving good food definitely their strength and make them the hidden gem in Tampoi area.

nikelkhor posted www.nikelkhor.com

486 Reviews