Tea Restaurants in Malaysia – 7 Restaurants
Top
50
Restaurants in Perak
Business Hour
9am – 10pm daily
The concept of this eatery is what i find most compelling. My lunch was good and satisfying. I truly enjoyed the surrounding, the zen-like feel and the idea of a tea house. Right next to where we sat were displays of various types of teas and tea pots on sale, and all things tea. Recommended...

WACK posted wonderfoodtravel.blogspot.com

41 Reviews
Business Hour
Mon - Thu: 12:00 pm - 12:00 am Fri - Sat: 12:00 pm - 1:00 am Sun: 12:00 pm - 12:00 am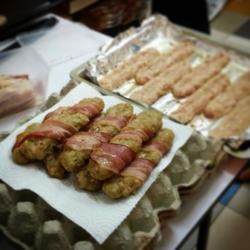 Business Hour
Weekdays 12pm-11pm; Weekend 10am-11pm; Tuesday Offday
We have fresh pork patty made from kitchen everyday. Our dishes are served without additional MSG. We bake baguette fresh daily. We have fresh ground coffee from our coffee counter. Fresh scones and muffin occasionally made by the owner of cafe. Ice-cream, cakes and dessert are about to add into menu in future
Signature pulled pork is really awesome. Must try before you die!!

Suling posted
Business Hour
Monday to Saturday 12:00pm to 10:00pm
Home-style cooking experience out of vegetarian, healthy, and environmentally friendly foods. Also serve a fusion of English afternoon tea with a touch of Asian.
Recently, a friend has been frequenting a cafe, apparently new in our hood. The photos she shared showed a place in a lot of pink and with a unique name, Flying Teapot. One night, we chose this cafe as our catch up venue. The main theme was, as you could assume from the name of the cafe, teapots. As such, the place was decorated with many teapot fixtures, such as teapot lampshades, teapot lighting, teapot telephone, teapot clock and teapot holders to name a few.

chryshijing posted chryshijing.blogspot.com.au

55 Reviews
Business Hour
7.30am till 1am Weekdays, 10am - 1am Saturday
A daring concept of Cafe by Day and Bar by Night. Serving varies food and beverage including fusion food, Belgian Liege Waffles, pastries, coffee, tea and selected wine and beer.
Chatime is franchised from Taiwan. We aim to be the most loved & respected Tea Company in the world. We are using high-tech tea & coffee machines to make consistently high quality fresh tea and coffees.
Chatime is the latest Bubble Tea Craze in town, and they opened out a bigger outlet here with more seating, and music, and added fried chicken into the menu.

d_luaz posted
Cameron Valley Tea is grown in the lush hilly terrain of Cameron Highlands since 1933 by the distinguished Bharat Group. Steeped in rich tea-making traditions, Cameron Valley Tea is carefully cultivated in 4 tea gardens spanning a total of 1600 acres and served at 3 Cameron Valley tea houses amidst breathtaking views of the highlands. Description Bringing this unique highland experience to the Klang Valley is Cameron Valley Tea Bangsar, the first casual dining concept outlet designed for tea lovers which offers a smorgasboard of tea concoctions and casual dining experiences. Tea beverages served hot and cold include Classic Tea, Local & House Specialities, Fruit Flavoured Tea, Healthy Infused Tea, Tea Floats and Tea Smoothies, all made with the distinctive Cameron Valley tea. All- day dining options are healthy and delicious selections of signature Salads, Doughnut Sandwiches, Sandwiches, Pastas, Main Courses, Snacks, Cakes, Puff Pastries and Scones. Only natural, fresh ingredients such as olive oil, fresh herbs and home-made sauces with no MSG are used in the carefully-crafted meals. Meal prices range from RM9 -30. For avid tea lovers, Cameron Valley tea packs in various flavours, merchandise and souvenirs are available for purchase.