Asian Restaurants in Seksyen 13 – 5 Restaurants
Business Hour
Mon - Thu: 11:00 am - 12:00 am Fri - Sat: 11:00 am - 1:00 am Closed on Sunday
A casual dining restaurant blending delicious fusion food and a cozy environment catered to families, friends and yuppies looking for a breath of fresh air. We take pride in our must try signature Chilli Rush Chicken Wings prepared at 10 different spice levels. Come experience the thrill of a mouth watering burn and make a date with the 'hottest' chilli in the world. If your middle name is 'Spicy', we dare you to go head on with the much feared, almost non-human, Number 10 and be crowned the 'hottest' winner.
If you are heading over for mains, keep to the Asian Cuisines instead. The gNOMes unanimously voted that the asian cuisines fare better than the western ones. Think you have a tongue and stomach of steel? Go for Level 10 instead!

renaelyng posted thegardennom.wordpress.com

76 Reviews
The interior decoration is nice and welcoming. I personally love going to places which is not too crowded. Defiantly a cosy ambience to dine with your family and friends.
Overall, the delights comes pretty much a big portion to me and it is good to share as well. I would say my lunch comes delicious and awesome at the worth-while price.

pamela_ybc posted www.malaysianfoodie.com

997 Reviews
Jalan Lompat Tinggi 13/33M
Sri Acappella Servis Apartment
Business Hour
5.00PM - 2AM
Where you can find a good food in a good environment with a plenty option? You can have all it here at D'Kayangan Steamboat, Grill and BBQ that offering variety of fresh food, splendid taste with a blend of west and east and great ambience with excellent hospitality. Steamboat BBQ Buffet D'Kayangan names very familiar to the food fans in the Klang Valley. This restaurant provides awesome concept 3 methods of cooking such as steamboat + BBQ grill + Charcoal stove. Besides the extensive buffet menu, they also serve whole roasted lamb, charcoal grilled daily. The restaurants are located at section 13 shah alam in the Sri Acapella Service Apartment, Opened for almost 6 years from 2010, a lot of improvements and transformations have done by the chefs the transformations we can see through 2013 that are Grill concept which is the preferred choice for many. With provided wide environment, D'Kayangan restaurants can afford 400 people in one time which is 180 people can sit in the inside the air-conditioning area or outside the open space. Being preparing almost 199 meals, well of course you need to try the famous Roast Whole Lamb with the various herbs that is secret ingredients and be served with Black pepper & Mushroom sauce to feel the great taste and aroma. On this New Year, the D'Kayangan Steambot BBQ and Buffet and starting another new concept which is the special 'skewer' menu that be cook by using Charcoal Stove provided at each table. The latest menu are goes well with this stove such as Chicken Skewer Spicy, Spicy Beef Skewer, Skewer meat sauce, Spicy Cilantro Squid Skewer, Skewer Spicy Dory Fish, Pepper Cilantro Shrimp Skewer and many more. The uses of new natural charcoal BBQ can make the food very healthy because of not using any oil or margarine and thus makes its aromatic smoked smell and tantalizing taste. Some interesting menu also added to the buffet like OTak-Otak, fresh fish with Tamarind Sauce, BBQ Chicken Wings and also new products from Icy Moonster as a dessert. You also given a choice of either chicken or Tom Yam Soup as Chicken Soup to enjoy together as a selection of fresh seafood fresh. Available options certainly Shrimp, Crabs, Mussels, Clams, Squid, Fish Fillet, Bamboo lala and many more. Various bean curd, vegetable and assorted noodles and also available for your choices. This is definitely a place to have a good meal in fairly peaceful environment to spend with your family and friends. Do check out many other exciting dishes in its menu and thus by making a decision to eat at D'Kayangan Steamboat, BBQ and Buffet are the greatest choices you will make because of we serve the best and healthy food to our customers. Why choose other if you have a plenty of choices in one restaurant.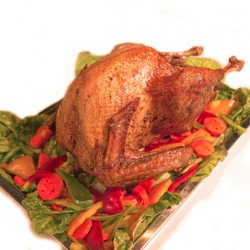 Business Hour
Open from 8am-10pm
Come down for a nice warm cosy garden style cafe restaurant, where the steaks are to die for and the food is great, we cater to garden breakfasts all day as well as private functions.