Restaurants in Oakland Commerce Square @ Negeri Sembilan – 6 Restaurants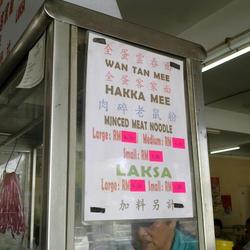 Best Wanton Noodle & Laksa in Town.
If you are traveling along the North-South PLUS Highway, take time to drop by to Seremban at Oakland Commerce Square which is 5 minutes away from the toll interchange for a quick meal or breakfast. If you are coming from Kuala Lumpur, exit the Labu/Seremban interchange and look for the OAKLAND signage. The distance from the toll gate to this place is approximately 4km. "Worth the stop for a tasty meal". The stall is located inside a coffee shop called " Kedai Kopi Shun Keng ". Opens from morning until afternoon, about 12pm+. GPS Coordinates : 2 42' 12"N, 101 55' 4"E,

mohan19 posted
Sunday Special 11 Types Of Briyani And On Saturday We Serve Chettynadu Thali With 15 Non Veg Items Then On Fridays We Serve A Vegetarian Gujarati Thali Serve With 20 Items
Business Hour
Tue – Sun: 8AM - 4PM Close on every Monday
First Bamboo Noodle Restaurant in Seremban, all handmade noodle using bamboo, serves mainly Guang Zhou Bamboo Noodle and Penang Original Prawn Mee.
Business Hour
Business hour:11:00am-10:30pm Break time:3:00pm-5:00pm